by Nathaniel T. Jeanson, Ph.D.
You might expect that the same gene in different creatures would have the same sequence. Surprisingly, this is not so. As we reported last month,1 our preliminary protein/DNA comparison data show profound molecular differences across creatures, and these differences fall along traditional Linnaean classification groupings as shown in Figure 1.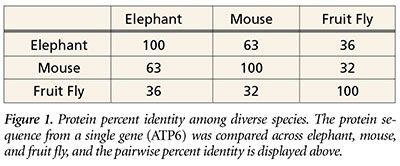 What would you conclude from this result? How did these differences arise? Was this same gene created differently in different creatures? Did these differences arise primarily because of post-creation and post-Flood change? How do we explain these results from a young earth perspective?
One fascinating hypothesis is that these differences arose as a result of different rates of mutation accumulation in different "kinds." This hypothesis—that the differences stem from different rates of origin—is different from the evolutionary explanation that the differences reflect different times of origin.
Consider the basics of molecular biology for how this might play out practically: The genome (complete set of genetic instructions) in each creature is unique, but genes (subsets of DNA sequence that are ultimately translated to protein) involved in common cellular processes are shared across diverse creatures. If we assume, for example, that God created the same ATP6 (one particular gene involved in energy transformation) gene sequence in elephants, mice, and fruit flies, and if we assume that elephants accumulated mutations slowly; mice, slightly faster; and fruit flies, much faster, then after 6,000 years of mutations, mice would appear (molecularly) different from elephants, and fruit flies would appear even more different from both mammals. Hence, a hierarchy of mutation accumulation rates could produce a hierarchy of molecular differences over time….
Continue Reading on www.icr.org