by Nathaniel T. Jeanson, Ph.D.
Last month we showed preliminary evidence suggesting that the molecular patterns we see in animal species may be due to different rates of mutation in each "kind."1 Further investigation of the match between mutation rates and genetic differences among species suggests that this initial hypothesis was incorrect.
Our initial hypothesis posited that individual gene sequences were identical in each kind but that the overall genome sequences were different. This hypothesis was consistent with the common design principle of tool re-use—if a tool performs a function well, good engineers re-use it for other applications. Conversely, in the genome, genes may act like tools in the construction (development) of each creature; if so, they might be re-used for the same function in many different creatures. Our hypothesis was also consistent with the common assumption that mitochondrial genes (that we were investigating) were "housekeeping"—they performed the same function in every creature. Hence, there seemed to be no functional reason for designing these gene sequences differently in different kinds.
We also hypothesized that, from this originally created gene sequence identity, modern gene sequence differences arose as a result of different rates of genetic change over time. These differences in rates would eventually produce a hierarchy of differences among modern species.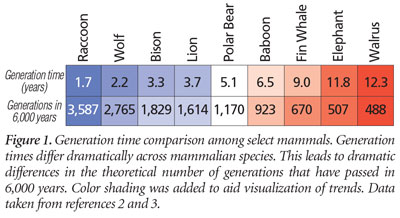 To test our hypothesis, we used a surrogate measure of mutational change, the generation time (the time from conception to sexual maturity) for each species. Since preservation of any mutation in a population depends on successful transfer of the mutation to progeny, the mutation rate for a species is intimately tied to the species' generation time….
Continue Reading on www.icr.org